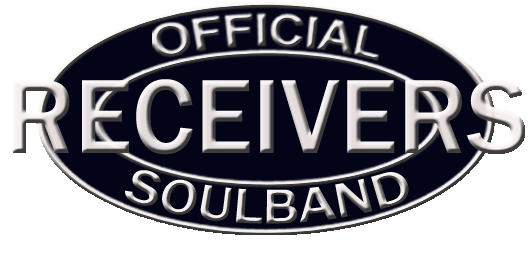 CELEBRATING THEIR 28TH YEAR
Some Important News !!!!
Please make your way over to
the News Tab if you are thinking of Booking the Band or Coming To a Show.
GIGS AT A GLANCE 2019
​
The Farewell Tour Dates
​
14th September

The Richmond Place Club Hereford
1st Novem

ber

The Artrix Theatre, Bromsgrove
7th December

Offenham Village Hall
December 20th

The Marrs Bar Worcester The Final Worcester Show
December 28th

The Rocklands Club Redditch
The Final Curtain
​
​
​
​
​
​
Do You Like Good Music?...........That Sweet Soul Music?
Then Look No Further
The Official Receivers swing into action with their exciting-high enrgy show featuring the classics from the great days of Stax and Atlantic.
Songs by Otis Redding, Sam & Dave., Wilson Pickett, Edwin Starr and James Brown and many more legendary performers, are slickly packaged to present a tight, fast moving evening. We have recently inserted into the show some Northern Soul tunes just to take you down a different avenue of soul before returning to the classics.
​
Raw Vocals, a tight rhythm section and a 3-piece Brass section to get you clapping and stomping along.
The Official Receivers had their 27th Birthday this year and are coming up for their 28th on the road. We would like to put out a huge thanks to all our fans that have followed us for many years. You know who you are!!
​
So keep the faith and come along to the next gig, just check out the SHOW tab for details.
​
It is with great regret to announce the Official Receivers will be splitting up December 20th 2019
Its been 28 years of joy to play for you all.
Head over to the News Tab for further details.